The JST asked three prominent Israeli foreign affairs commentators about Turkey-Israel relations after the Turkish elections.
Act with Caution
By Amos Yadlin
Warming up to Israel and reviving bilateral relations have been part of Erdoğan's broader détente policy in the region. The Turkish economy's dependence on Saudi Arabia and the UAE, with the channels now reopened between Jerusalem and Ankara, provides an opportunity to expand cooperation with Erdoğan on curbing Iran's ambitions and to restrain Hamas activities on Turkish soil.
Israel should act with strategic caution in dealing with Erdoğan, bearing in mind that he can change course overnight once again. Improved ties with Turkey should certainly not come at the expense of Israel's partnerships in the eastern Mediterranean with Greece and Cyprus.
A word about democratic governments. Elections are but one aspect of democracy. Erdoğan eroded all of the other aspects – checks and balances between the branches of government, academic and press freedoms, human rights. Israel, frankly, was never overly worried about the fact that the Arab countries with which it sought to normalize relations were not democracies. On the contrary, it occasionally feared that accelerated democratization would bring to power radical Islamist movements, as happened in Egypt in 2012. Given this background, Erdogan's anti-democratic steps should not in themselves be a barrier to strategic cooperation based on common interests. 
Israel's government needs to be on guard against adopting parts of Erdoğan's playbook –changing the rules for choosing the judiciary, muzzling the media and making fake news and false claims a tool of political survival.
Shared Interests in Azerbaijan
By Pazit Ravina
Signs point to Turkey and Israel continuing normalization. Erdoğan refrained from inflaming his voters during the riots in April on the Haram al-Sharif/Temple Mount and the bombing of Gaza. Days before elections, Turkish intelligence announced that it had busted a ring of Mossad agents operating against Iran on Turkish soil. Israel refrained from any official comments, and President Herzog and Prime Minister Netanyahu were among the first foreign leaders to congratulate Erdoğan after the elections.
One positive aspect of bilateral Turkey-Israel relations stems from the prospering of economic and security ties between Israel and Azerbaijan, Turkey's "sibling" nation. Links that create a triangle of power might strengthen Turkey's regional standing vis-à-vis Iran both in the Middle East and the Caucasus.
On "whither Turkey" more generally, two upcoming events will provide clues. Turkey's decision on Sweden's NATO membership will be a focus of the NATO summit in Vilnius, July 11-12. On October 29, Turkey will celebrate the 100-year anniversary of its declaration of the republic. Erdoğan has been planning the anniversary for years. How the celebrations characterize Turkey's founding secularism and its Ottoman past will be interesting as Erdoğan begins to build his legacy. They may also provide an opportunity to further the détente in the region.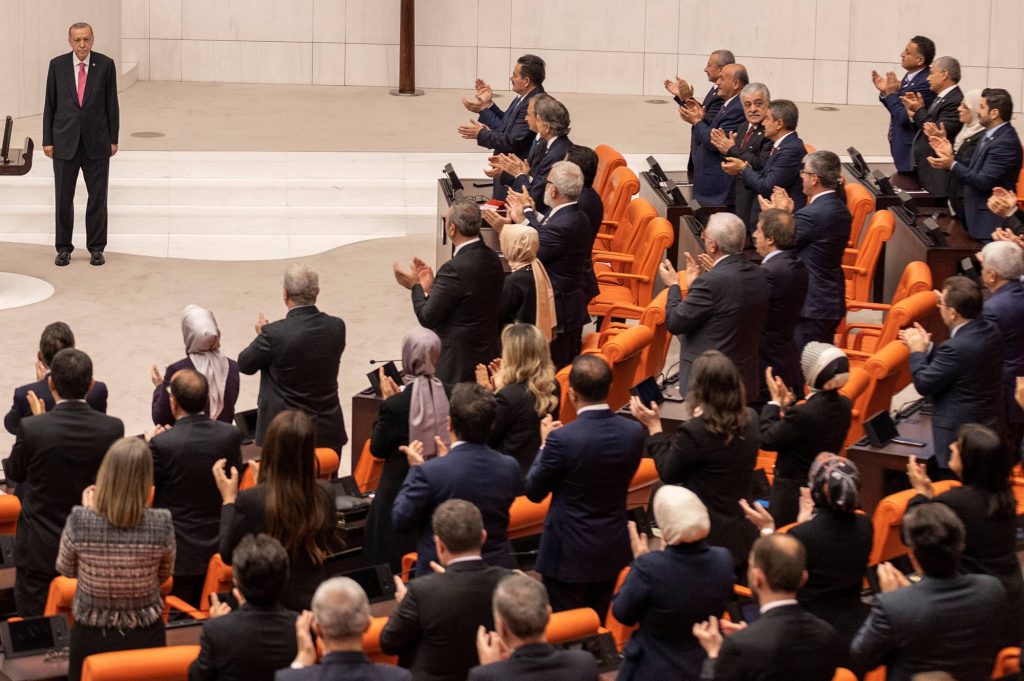 Moving Beyond More-of-the-Same
By Nimrod Goren
Turkey-Israel relations have known numerous ups and downs during the past 21 years of Erdoğan in power. The one constant has been steady growth in two-way trade.
As Erdoğan enters a new term, political relations are on an upward trend. Under the prior Bennett-Lapid government, full diplomatic ties were restored. The normalization process has proven durable under the current Netanyahu government, even after tensions around the holy places in Jerusalem during Ramadan, a round of warfare in Gaza, and a tight electoral race in Turkey. In previous times, such developments led to a deterioration in ties.
As with Israel's other regional ties, developments on the Palestinian front will affect the future of its relations with Turkey. The rapprochement between Turkey and Egypt opens opportunities for tripartite Turkey-Israel-Egypt cooperation, which was not possible for years, and which could enable initiatives in the Eastern Mediterranean.
An emphasis should be put on enhancing Turkey-Israel civil society cooperation, which is lagging compared to governmental and business engagement. There are societal efforts in both Israel and Turkey to safeguard democracy and potential benefit in sharing best practices and lessons learned.