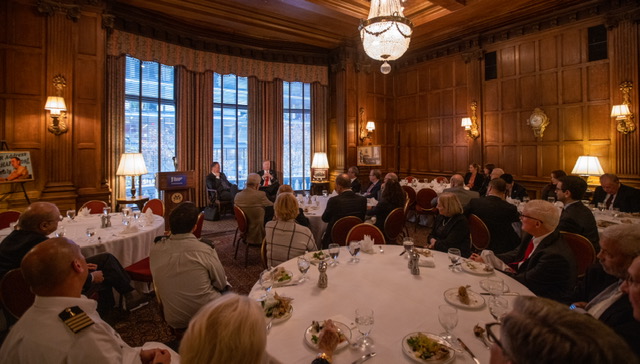 On December 15, Gen. (ret.) James Jones told stories of his time as National Security Advisor, Supreme Allied Commander Europe, and Marine Corps Commandant and gave advice on current issues, in a wide-ranging discussion with Admiral (ret.) James Foggo.
The discussion took place, under Chatham House rules, over a lunch at the Metropolitan Club in Washington hosted by the JST and the Center for Maritime Strategy, with welcome remarks by JST publisher Ahmed Charai and Board Chair Dov Zakheim. Charai commented that throughout his more than 40 years of service to country, General Jones has always championed the idea that the United States is a surprisingly resilient country, a hub of the global economy, and a beacon of democracy to many others. 
Jones grew up in post-World War II France and attended French schools before attending Georgetown University and entering the Marine Corps. After leading a platoon in Vietnam, where he earned the Silver Star for combat action, he served for five years in the military liaison office of the US Senate, working under then Navy Captain John McCain.
Jones commented on US weapons systems, especially his experience as Marine Corps commandant in supporting a vertical take-off and landing aircraft, the V-12 Osprey. He talked about the US system of regional combatant commanders; he prefers the term "unified commanders" as a better term for peacetime commands. He described setting up the African Command and discussed the growing importance of US policy in Africa.
Jones also described his vision for incorporating diplomatic and economic personnel and policy into the regional commands, which have the advantage of being co-located with allies and partners. He described a three-level concept for organizing US foreign policy with strategic planning in Washington; operational goal-setting at expanded regional commands; and tactical execution at the embassies. He recognized such a re-organization would involve trusting and empowering regional commands to play a greater role.
On the Russo–Ukraine War, Foggo expanded on an observation by Jones that, while the US had worked with both Ukraine and Russia on train and equip policies at a better time in US–Russia relations, 15 years ago, only Ukraine had adopted the US system of non-commissioned officers. Foggo explained how NCOs were making a difference in the prosecution of the Ukraine war; he also noted that while the Chinese navy has more surface vessels than the US, the Chinese military likewise lacks NCOs.