Jacob Nagel's recent article in the JST, "Security Challenges Facing the New Israeli Government," tours the often-visited terrain of threats to Israel and focuses, quite rightly, on Iran and Hezbollah. Adding an economic element to such overviews will provide greater clarity and accuracy in assessing Israel's strategic needs. Two aspects of such an economic element are provided below.
Right-Sizing the Defense Budget
Every year there is a debate in Israel over the size of the defense budget. In 2006, a governmental committee chaired by former Deputy Prime Minister Dan Meridor recommended a defense budget target of 5% of gross domestic product (GDP).
Israel's public expenditure on defense has declined over the years and now has reached a relatively comfortable 5% of GDP as can be seen in the chart below.
Defense Consumption Expenditure as a Percentage of 1950–2020 GDP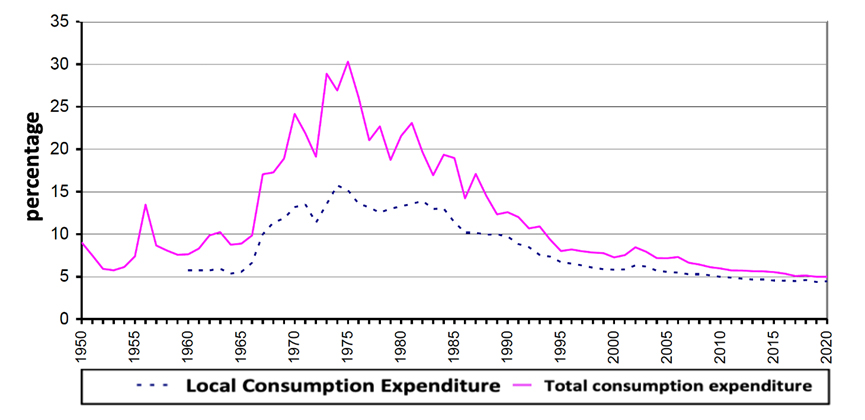 In recent years, the defense budget is approximately 20 billion dollars, with the US contribution reaching nearly 20% and representing a significant portion of the defense procurement portion of the budget in an average year.
Thus, a major contribution to the sustainability of Israel's defense budget, in economic terms, comes from US aid.
Countering the Finance of Terrorism
Israel has established a National Headquarters for Economic Warfare against Terrorism, administered by the Ministry of Defense and that includes the attorney general's office and the internal security service. In 2019 then Defense Minister Naftali Bennett issued sanctions against several Hamas activists abroad. Normally, Israel indirectly engages in the freezing of bank assets and other economic sanctions under the terrorism financing rules by providing information to the US Treasury, the US government's lead on terrorist financing. This is more effective than Israel's unilateral application of sanctions.
As these two economic aspects illustrate, Israel is quite dependent on the US for some areas of its national security. This should be addressed in any overview of national security strategy.